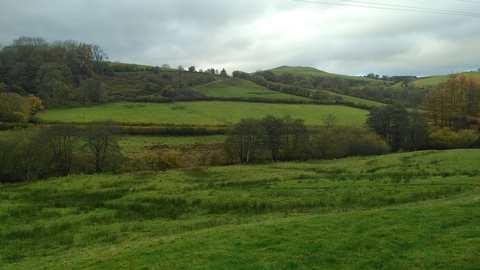 Pentwyn - shaping our vision for nature's recovery
Book
Join Radnorshire Wildlife Trust Chief Executive, James Hitchcock and guests to hear about our vision for Pentwyn, our latest land purchase.
About the event
Join James Hitchcock, Chief Executive of Radnorshire Wildlife Trust, Julia Davies, We Have the Power and guests to hear about our exciting and bold new venture at Pentwyn.  
We've taken on a livestock farm, with woodland, re-seeded grassland  and semi-improved pasture, and the young River Lugg SSSI.  We plan to put nature in the driving seat through extensive management and let natural processes evolve so that wildlife can flourish.  We want to showcase what might be possible for the future of land management in mid Wales, for soil, water, carbon, climate and wildlife.  
We are at the start of a long journey and have many decisions to make about the future.  
We want to be open and inclusive about our work and inspire people to support our ambitions and join us on this venture.  
We'd love you to join us to hear about how we came to own the land and what we plan to achieve from here.  
The future is in all of our hands.  To change things we must take action.  And we must be bold.  
Booking
Suggested donation
£5.00
Additional booking information
The Zoom link for the talk will be sent out on the morning of the 13th from EventBrite, please check your inbox on the day.