Information for Dog Owners
We do not allow dogs under close control on any of our nature reserves.
Dogs must be kept on a lead at all times.
Responsible owners and their well behaved dogs on leads are welcome at most of our nature reserves.  Where dogs are allowed on reserves, we have a strict dogs on lead policy.
Radnorshire Wildlife Trust are the landowners in most cases and as such reserve the right to allow or not to allow dogs on our nature reserves.  We ask that dog owners respect both wildlife and fellow walkers, not all of whom will be dog lovers.
Dog fouling can cause problems for wildlife, by increasing the nutrients and thus threatening important plant species and communities, and is unpleasant and potentially dangerous to other visitors as well as staff and volunteers.  Always clean up after your dog.  Thank you.
Nature Reserves where dogs are NOT allowed
Burfa Bog, Fronwen Wood, Llanbwchllyn Lake, Pentrosfa Mire, Sideland and Tylcau Hill (Floss Brand).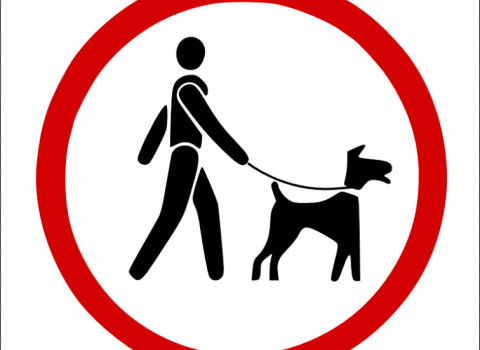 Dog Walking
Keep your dog on a lead.

Always clean up after your dog. 

Never let your dog chase wildlife or grazing animals.

Ensure your dog's behaviour is not a threat or problem to other visitors.

Please follow all signs for additional information about walking your dog.
Dog Poo - What to do
In public parks or on private estates you will often find special bins in which to put dog poo.  Unfortunately Radnorshire Wildlife Trust is not able to offer the same service, so please take away your poo bags to the nearest bin or take it home with you. Dog poo left in bags on walls or hung in trees will not be removed by staff or volunteers.
Be thoughtful, be responsible, pick it up.  Thank you.
Pick it up for Wildlife

Some dog owners think that dog poo is 'natural' and that they can just leave it. This is not the case! Nor will the rain wash it away! Dogs do not forage out in the wild like wild animals and therefore their faeces is not natural either.

Wildflowers and plants need low nutrient soil to thrive. Soils enriched with dog faeces encourage the growth of coarser plants such as nettles and thistles, which compete with and outgrow many wildflowers. 
Pick it up for People

Our nature reserves are used by families with children aswell as wheelchair users, volunteers and staff.  Cleaning up after your dog prevents others from getting faeces on their feet, hands or clothing, or in the wheels of wheelchairs and pushchairs. Not only is it unpleasant, dog faeces can cause serious diseases in humans such as Canine Toxocariasis, which can lead to blindness. eg. when staff/volunteers are out strimming the paths to keep them clear for visitors.
Pick it up for Livestock

Dog poo can cause serious disease in domestic livestock. Neosporosis can cause abortion in cattle and Sarcocystosis can cause neurological disease and death in sheep.
We greatly value our supporters help in setting an example and communicating the importance of sensitive behaviour in Radnorshire's countryside.