Go WILD with Radnorshire Wildlife Trust
Can you do one wild thing a day throughout the whole of June? We believe you can! Join thousands of people taking part in our annual nature challenge, 30 Days Wild! Do it for your health, wellbeing, wildlife and the planet!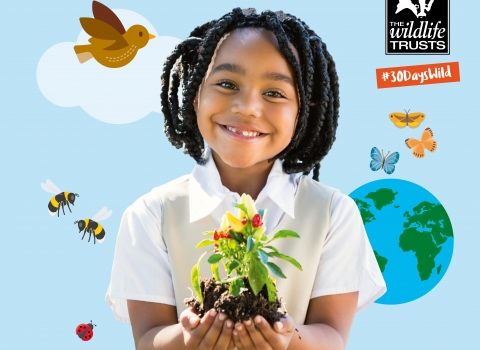 What is 30 Days Wild?
30 Days Wild is the UK's month-long nature campaign run by The Wildlife Trusts. Now in its sixth year, sign up and take part with hundreds of thousands of people across the UK (and do your bit to help wildlife, too!).
30 Days Wild brings people closer to nature where you live, taking small actions that can collectively have a big impact! From little things such as watching a bee from your window or feeding the birds, to digging a pond in your garden: every Random Act of Wildness counts.
If you want to see what others are getting up to, just check out #30DaysWild on social media.
Why take part?
While nature needs us more than ever, the reverse is also true. We're all part of nature, and it should be a part of our lives.
Over the past five years, The Wildlife Trusts has been working with the University of Derby to find out about the impact that 30 Days Wild has on participants. The results show that people feel happier and healthier after taking part, and for months after too! 
What is a Random Act of Wildness?
A Random Act of Wildness is any thing that you can do in an average working day to bring a little nature into your life. They can take a few seconds, a few minutes, or if you lose yourself completely, a few hours! We've put a few ideas below - but you can make up your own, too!
What are you waiting for? 
Whether you are five or ninety-five, it's time to let nature into your life!