The River Wye is far from being in good condition
Phosphate-rich runoff from chicken farming is the primary cause of the spread of algal blooms that are devastating the river's ecosystem - with manure from other sources, sewage outflow and legacy release from soils also contributing. If this continues, the Wye will be devastated. The fish will go, and they will be followed by the kingfishers, dippers, and herons.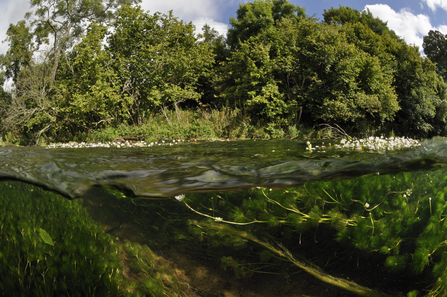 Powys now has more than 150 Intensive Poultry Units housing an estimated 10 million chickens. Chemicals from the manure are entering into the river and combining with other waste to create a deadly cocktail of pollution. This is causing algal blooms and a loss of oxygen in the water. We're targeting this, the biggest source of pollution, first. 
We need the Ministers for Climate Change and Rural Affairs to take urgent action to save the river. Many people, both farmers and the agencies, want to do the right thing but there just isn't enough support from the legislation to deliver positive results for wildlife. You can help by emailing your MS today!
Our rivers are corridors that connect meadows, wetlands and woodlands. They should be supporting fish, insects, mammals and birds. Healthy rivers contain more oxygen, more life, and more carbon - which is vital in helping to combat the climate crisis.