Visiting Gilfach

Gilfach is open all year. 
Please keep dogs on a lead at all times. 
We welcome visiting groups. 
Please contact us for help in planning your visit.
Gateway to the Reserve

The Welcome Gateway is Gilfach's main carpark, with a shelter, information and picnic tables.  The Marteg Valley Nature Trail, Walk Through Time and Wyloer Hill Walk all start nearby.
The Old Farmyard

Find out more about Gilfach in the Byre.  Sit in the old farmyard and enjoy Gilfach's peace and tranquility.  The Easy Access Path and Oak Wood Walks start from here.
People with Limited Mobility

While the terrain is often unsuited, there are a number of facilities available to aid those with limited ability.  Please see the attached document for full information:

 
Want to Learn More?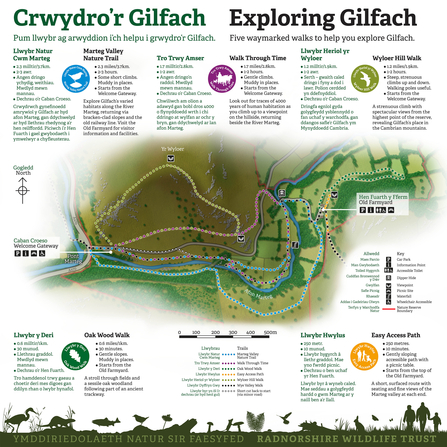 Want to explore the nature reserve?
Marteg Valley Trail

This gives you the best flavour of the reserve and its wildlife.  Break off to visit the Old Farmyard for more information and facilities. 
The Walk Through Time

Slightly shorter, this takes you up to the shoulder of the valley and then back along the river to the Welcome Gateway.
Wyloer Hill Walk

For a good workout, head up steeply for fine views across the Cambrian Mountains.  Be prepared - this is strenuous!
Just Want to Stretch Your Legs?

From the Welcome Gateway, follow the sculptures along the Marteg Valley trail and then break left on a path to the road about 400m along.  Walk back down the road.

Or drive to the Old Farmyard where there are toilets, refreshments and picnic tables.

You can also wander along the Easy Access Trail or head out along the Oakwood Walk which will only take half an hour.