We're aiming to restore rhôs pasture habitat across Radnorshire. Working with local farmers and landowners as well as coordinating events and exhibitions across the area to raise awareness and connect people with this habitat.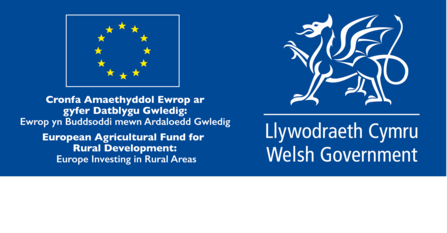 A two year Sustainable Management Scheme running from March 2021-March 2023. Funded through the Welsh Government Rural Communities - Rural Development Programme 2014-2020, which is funded by the European Agricultural Fund for Rural Development and the Welsh Government.
What's the project about?

Rhos pasture is species rich marshy grassland, traditionally managed by low level cattle grazing. It is a frequent component of the landscape of Mid Wales, though it is undervalued for its species richness and ecosystem services potential. Focussed on the area surrounding Rhayader, this project aims to restore biodiversity and raise the cultural value of rhos pastures with both landowners and communities.

With support from staff, landowners, volunteers and contractors, the project plans to:

•Survey and monitor the restoration of rhos pasture.

•Improve the biodiversity, soil structure, carbon and water storage of rhos pastures.

•Survey and monitor the biodiversity and evaluate the management methods applied.

•Help sustain farm businesses by investigating markets for products and developing tourism facilities.

•Use arts and heritage activities to engage the public, create a positive identity for rhos pasture and provide educational, health and well-being benefits.

•Monitor and evaluate outcomes and use this information to inform others.
Arts & Heritage

Together with CARAD, our Community Arts & Heritage Officer will be planning and delivering a wide range of activities and events. These will use arts and heritage to explore and better understand rhos pasture. 

This will include:

Family and youth events
Hosting our first artist in residence
A variety of art workshops held in rhos pasture habitat
An oral history project - unearthing and collecting peoples memories of rhos pasture
Working with local schools and community groups
Talks & walks

 
How can you get involved?

There are lots of ways to get involved in the project: