Ash Dieback and its impact on RWT Nature Reserves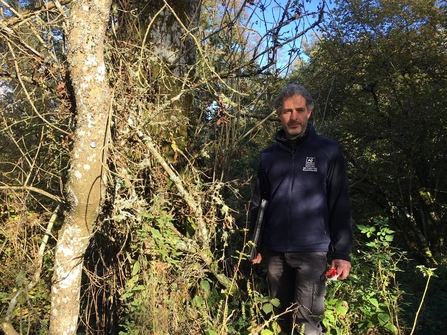 Radnorshire Wildlife Trust will be taking substantial measures to deal with the impact of Ash Dieback disease on some of their nature reserves this winter. The Trust undertakes tree safety surveys where the public walk every year and last summer saw a significant increase in this devastating disease. Remedial work will include tree felling, hard pruning and closure of footpaths.
Ash dieback is a fungal disease that is affecting ash trees on a national basis and it is expected that 80% of the UK's ash population will die. The dieback is visible in the tree canopy but once affected there is often hidden decay in the tree's root system caused by other fungi. 
Ash trees at Bailey Einon nature reserve near Llandrindod Wells are particularly badly affected with up to thirty-five mature trees likely to drop branches and eventually fall on the footpath. As there is no vehicle access onto the reserve, the scale of the felling and the quantity of branches arising from the work to make the footpath safe would smother the flowers. Radnorshire Wildlife Trust has therefore decided to close the reserve and allow the trees to fall naturally over time, providing wildlife with an important dead wood habitat. Maps show that there is an alternative footpath outside of the nature reserve that would allow people to walk through to Alpine Bridge.
Major remedial work will also take place at Withybeds nature reserve on the outskirts of Presteigne and is also due to receive major tree safety work.  There, tree surgeons will reduce the height of the ash trees, making them less hazardous should they eventually fall so they are less of a danger as they die to people walking past. Staff from Radnorshire Wildlife Trust will be on site on Weds 11th November (10-12pm) and Friday 13th November (2-4pm) if anyone wishes to discuss the upcoming work.
Nature Reserves Officer Jonathan Stone said, "We need to consider public safety alongside the ecological value of trees on our nature reserves.  Ash dieback is going to change the countryside dramatically. We understand that some people will be disappointed about what we are doing but our decisions have not been made lightly. We have discussed this fully with Trustees, our Conservation and Scientific Committee and with arboriculture experts".