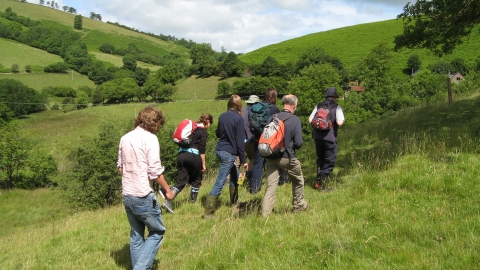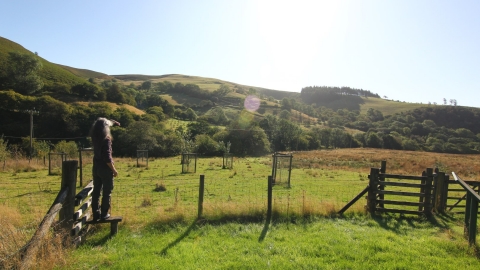 Tylcau Hill (Floss Brand)
A natural hillside of flower-rich farmland with traditional rhôs pasture and dingle woodlands.
Location
Know before you go
Parking information
Car park at entrance
Grazing animals
Sheep and cattle (cows and their calves and bull) from May to October.
Walking trails
There is a 1¼ mile circular way-marked trail taking you around the reserve with a steep incline.
There is also a 5½ mile circular walk on the hills around Tylcau, taking in the reserve, ancient remains of a medieval longhouse, and burial mounds.
Access
From the A483 (T) at Llanbister, take the B4356 Llanbister to Llangunllo road.  Drive over the common and after approx 2 miles take a sharp left turn signposted Llanbadarn Fynydd.
Continue for just over a mile, turn right at red telephone box, going round cattle grid and driving to the end of the tarmac lane.  You will see the car-park for the reserve on the right.
When to visit
Opening times
All year round
Best time to visit
May to September
About the reserve
Mountain pansies bloom in the higher slopes with purple moor-grass, rushes and sedges thriving in the wet grassland known as rhôs pasture.
Patches of adder's-tongue fern are a welcome sight as these are considered a good indicator species of ancient meadows and are found alongside the gentle shivering quaking grass and devil's bit scabious.
The small pearl-bordered fritillary butterfly loves the wetter fields, swooping close to the ground, while in late spring the green hairstreak butterfly perches with its wings closed on the hawthorn twigs.  If you want to hear the cuckoo, then a visit in spring is a must! The undualting call of the curlew can also be heard.  Old hedgerows, ditches and patches of old scrub provide important breeding habitats for the yellowhammer, pied flycatcher, meadow and tree pipit, redstart and linnet.
The little Camddŵr brook seems very clean with lots of invertebrate activity. Bullheads loiter under stones and otter spraints have been seen on several occasions. Common lizards, frogs and toads all make their home here.  On the south-west facing fields known as "ffridd" there's a lovely mix of hawthorn, rowan and crab apple trees. 
Species
Contact us
Radnorshire Wildlife Trust