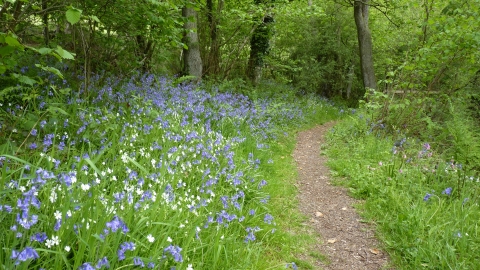 An ancient woodland with the River Ithon flowing by.
Location
Know before you go
Parking information
Shaky Bridge picnic area
Walking trails
The path through Bailey Einon is closed due to ash dieback disease. We apologise for any inconvenience caused and recommend consulting the local Ordnance Survey map for alternative paths linking Shaky Bridge and Alpine Bridge.
Access
The reserve is currently closed due to the dangers posed by ash dieback disease.
When to visit
Opening times
All year round
Best time to visit
April to June
About the reserve
There are over forty breeding bird species in this ancient woodland, including pied flycatcher and redstart. Dippers are often found along the river as are grey wagtail with dragonflies and damselflies flitting along the river edge in the summer.
The woodland consists mainly of wet alder and ash over a hazel understory, with lichens, mosses and liverworts supporting a rich beetle community. Yellow archangel, red campion and a stunning bluebell display is well worth a visit in the spring, whilst winter brings the woodcock to the woods.
The woods are home to the Daubenton's bat and otter spraints are often found near Shaky Bridge.
Contact us
Radnorshire Wildlife Trust
Environmental designation
Ancient Woodland
Regionally Important Geological Site (RIGS)
Scheduled Ancient Monument
Site of Special Scientific Interest (SSSI)
Special Areas of Conservation (SAC)