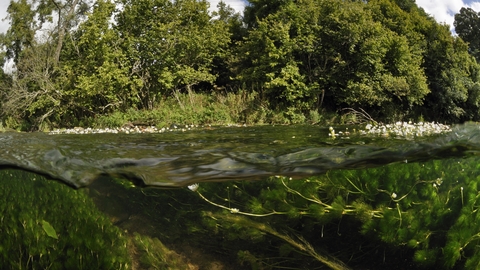 To celebrate National Marine Week, come join us at Gilfach to learn about river dipping and aquatic life, go crazy with crafts, and improve your knowledge of our rivers and seas!
About the event
Join us as we delve into the River Marteg and discover what is living there! Our staff will show you the techniques of river dipping and children can have a close-up view of some of the creatures that live below the surface.
There will be aquatic-themed crafts and opportunities to learn more about our rivers and seas, and what we can do to help protect and conserve our marine environments for the future.
Booking is required for this event, please book onto ONE of the following arrival times: 10:00, 11:00, 13:00 or 14:00. Parking is available at either the lay-by near the burial mound or at the Old Farmyard. Please note there is NO parking available at the Dipper Hide.
National Marine Week (Sat 24th July - Sun 8th August) is The Wildlife Trust's nationwide celebration of all things marine. Despite not having a coastline in Radnorshire, we would like to highlight the importance of our river links to the sea.
Know before you go
What to bring
Suitable footwear and clothing
A snack