Upcoming Swift Talk: Helping Swifts - Helping Us Too
Headed by Edward Mayer from Swift Conservation, this richly illustrated talk will focus on his studies of the Swift over the last 18 years, and his efforts to establish Swift groups across the UK and Europe.  For more information on Edward Mayer and Swift Conservation, or to hear more about the event, please click the link below to be taken directly to the event page:
Helping Swifts - Helping Us Too
Swifts are a medium-sized aerial bird, which is a superb flier. They are birds of crags and holes and will often use buildings in the UK in which to nest.
Swifts are plain and sooty brown in colour, but in flight against the sky appear black and are superb aerial flyers. They have scythe-like wings and can often be heard 'screaming' around towns and cities, flying high up before darting into the eaves of a building, in which they will nest.
As a summer visitor, breeding across the UK, the Swift is most numerously recorded in the south and east, as well as Wales.  Swifts will over-winter in Africa and visit the UK and Europe to breed, usually arriving in late May.  Once the breeding season is over, they are often heading back to Africa by late August.
Sadly these birds have declined by 50% in 25 years globally (Swift Conservation, 2021) and their UK Conservation Status is currently Amber, RSPB 2021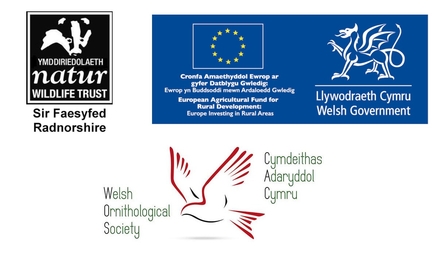 Would you like to learn more?
Welsh Ornithological Society

If you want to learn more about the common Swift and other birds across Wales, then please check out the resources available on the Welsh Ornithological Society's website, without whom this project wouldn't be possible. 
Swift Conservation

The great people at Swift-Conservation.org have a wealth of information about Swifts and Swift conservation, from guides on how to properly survey for them, to instructions and recommendations on buying, building, and setting up your own swift nesting boxes.  Please click on the links below to be directed to just a small sampling of their great content:

Swift survey techniques   How you can help Swifts 
Green Connections Powys is a collaborative Wildlife Trusts project across Powys that will be working with community groups, small businesses, landowners and statutory organisations to take local action to address climate change and biodiversity loss and create a Nature Recovery Network across the county.
As part of this project we would like to highlight the plight of the Swift and mapping the nest sites to be able to pinpoint areas that Swifts are currently still residing.
We have a Swift group!
It is a volunteer based group, where you can meet like-minded folk who are interested in helping Swifts.  Next year we will be surveying and mapping Swifts in Radnorshire with their help, and hopefully yours!
If you would like to join, or simply find out more, please contact Janice Vincett at janice@rwtwales.org
Know your Swift!
 
Due to its speed and size, the Swift can sometimes be mistaken for other local bird species.  This image should help to familiarise you with the differences between the Swift and other similar species. 
Be sure to note the distinctive shape of the Swift's wings!
Show your support for Swifts!
We would like to work with communities across Powys to celebrate with you that Swifts remain. 
Would you like to show your support for Swifts? Perhaps you would like to design a poster or banner to display this support.
 If you are a business, school or other community group based in Powys, and would like to show your support for Swifts, please contact the Project to find out how you can get involved. 
If you would like to find out more about any of the items above please get in touch with the relevant trust:
Janice Vincett – RWT Green Connections Community Wildlife Officer at: 
Lottie Glover – MWT Green Connections Community Wildlife Officer at:
Pauline Hill – WTSWW Green Connections People and Wildlife Officer at: