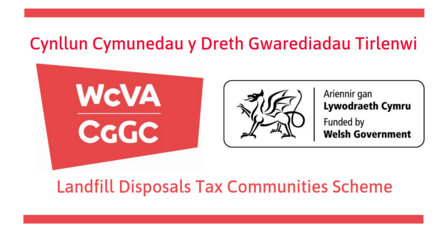 Funded by the Landfill Disposals Tax Communities Scheme, this project runs from 1st September 2020 until 31st August 2021.
This year long project is based at our Cefn Cenarth nature reserve and aims to create and encourage the development of a more biodiverse woodland habitat with increased resilience to the future impacts of climate change.
What's the project about?

Most of the trees of Cefn Cenarth are very similar in size and age, suggesting that large sections were clear-felled during the First and Second World Wars and have since regenerated naturally. One of the project aims is to continue the restoration of the woodland by creating a greater mix of tree ages.

We want the woodland to take on a more natural appearance with a greater mix of young saplings,  semi-mature trees as well as mature, and decaying oak trees. These act as their own habitats; providing holes for birds and bats, deadwood for insects, and  more opportunities for fungi, lichens and mosses able to develop.

Creating a more diverse woodland habitat will allow lower plants on the woodland floor to flourish.  This will encourage more insect activity and thus provide a valuable food source for birds and bats.

The project will also work with local landowners and residents in the area to form a new volunteer group to help mange Cefn Cenarth.  Tasks will include surveying species and habitats as well as monitoring exercises and conducting historical research to produce an information leaflet.
Benefits

Our wonderful volunteers have helped improve Cefn Cenarth massively. To date, they have installed numerous new bird boxes, constructed a new bench and done historical research on the site to inform this leaflet below....
Hear more!

To see regular updates on what we're up to on site, check out Radnorshire Wildlife Trust's Instagram account. Or, become a member to recieve a monthly newslettter. If you have a direct question, please feel free to email me at phoebe@rwtwales.org